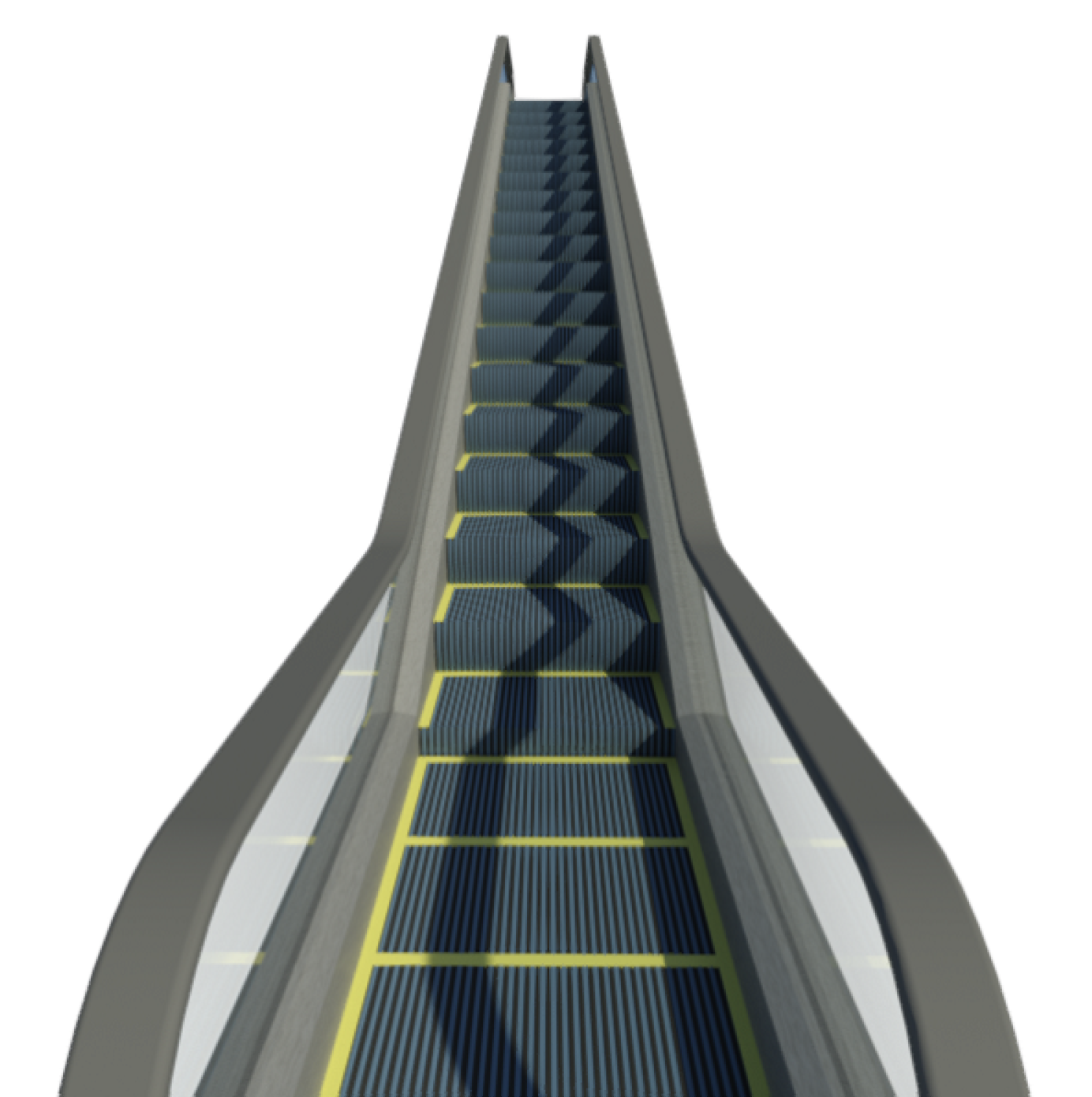 You can tell a lot about people by watching what happens on an escalator. Some of us stand calmly in place, waiting for the escalator to do its job. Others march up or down, feeling the satisfaction of saving extra seconds. There are those who seek the comfort of the handrail, and there are those who will never touch it for one reason or another – rock solid balance, possible germs, feeling that tiny bit more alive. Of course there's one of humanity's major dividing lines – those who stand to the side so others can pass, and those who stand across the steps, oblivious to the needs of their fellow travelers (you know who you are).
Perhaps it's easy to pinpoint these habits because escalators really are everywhere. There's hardly a public or large-scale commercial project that doesn't make use of one – airports and stations, shopping malls, stadiums, theaters, museums, hotels, convention centers… The list really could go on in this case. The escalator's omnipresence is one reason we chose it as the first step in making good on our 2018 resolution to publish more of our own content.
An escalator is something that AEC firms will need over and over across different projects, but it's not an easy family to build from scratch in Revit. Nor is it easy to find a manufacturer version that performs well in a project and that's truly flexible. So we saw an opportunity to build a family that should make a valuable long-term asset to many a Revit content library.
Just as riding an escalator offers a window into personalities, we thought that creating an escalator family would be a great way to demonstrate our habits as Revit content creators. Our generic escalator combines the precision of a manufacturer-specific family with extensive flexibility to meet a range of design criteria.
In addition to more obvious options like Inclination (angle), Step Width and Handrail Width, the escalator comes with parameters for fine-tuned control of options like Step Depth, Step Run, Skirting Length, Floor Plate Length, Floor Plate Width and more, with most being independently controllable for high level and low level. We've packaged these options as a default type that you can quickly and easily modify to create custom types for specific design criteria.
We've also included electrical connectors for the motor on the upper level. And we've applied custom materials for step tread to give it that true escalator look in renderings and 3D realistic views. In terms of design workflow, our escalator is built using a 2-level family template, which makes it simple and straightforward for the user to correctly attach the high and low levels to a building structure. If the building levels are ever moved, the escalator will automatically adjust to stay connected.
We've pushed ourselves to make this escalator a mean and lean machine. So we're proud to deliver such a complete family in a file size of just 650 KB. For just $129, we'd say it's a steal! So check out the escalator in our store, and see how it can help take your Revit family library to the next level.
P.S. – To our dear blog readers, we're offering an even sweeter deal. For one week only, get our escalator Revit family for just $99. Just use code GOINGUP at checkout before midnight US Pacific on Wednesday, March 7th.